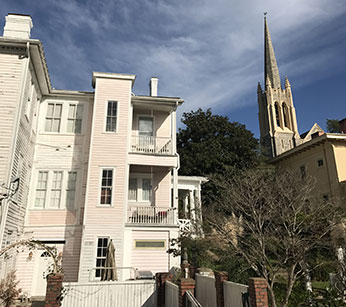 Check-in is 4 - 8 p.m.
Check-out is 11 a.m.
If you anticipate arriving late, advance notice is required.
RATE INFORMATION: All regular rates at the Rosehill Inn are based on double occupancy and do not include 13% tax. Each additional person, add $25. Local taxes not included. We accept cash and the following credit cards: Visa, MasterCard, Discover, and American Express.
DEPOSIT: A deposit of 50 percent of the entire reservation will apply for three nights or more. During festivals and holidays, a two-night minimum is required.
CANCELLATIONS: A 3-day notice is required for cancellations to obtain a refund, less a $10 cancellation fee. Early departures are subject to a one-night room charge.
For your convenience, use the online reservation form to send your information to the Rosehill Inn. Or print a copy of our fax reservation form and fax it to (910) 815-0350. Or check our availability on-line. Or simply call our toll-free number at 1-800-815-0250.
Our inn is suitable for children ages 14 and older. We cannot accommodate pets at the inn, but will be happy to recommend local boarding facilities.
SMOKING: For the comfort of others, smoking is only permitted on the verandas, where you will find comfortable seating.